9-501 Big Pa's Seasonings for the Christmas Season Gift Pack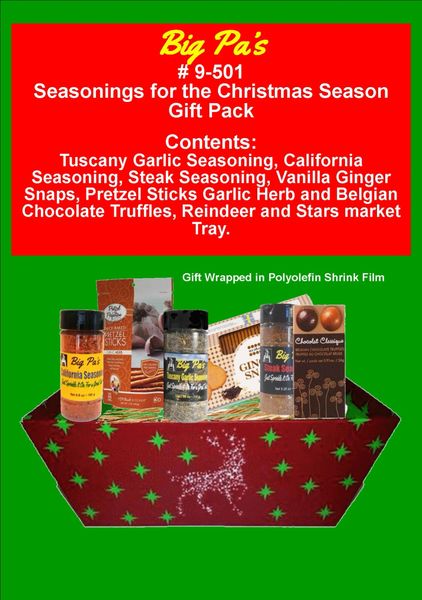 9-501 Big Pa's Seasonings for the Christmas Season Gift Pack
For Orders outside Canada and USA please call 1-705-874-3195 or email: Bigpa@CottageCampCabin.com for freight rate.

Out of Stock
Big Pa's Seasonings for the Christmas Season Gift Pack with Reindeer and Stars Tray
1 unit # 4-305 California Seasoning.
1 unit # 4-345 Tuscany Garlic Seasoning.
1 unit # 4-340 Steak Seasoning.

1 unit Vanilla Ginger Snaps 150 gr.
1 unit of Pretzel Sticks Garlic Herb 28 gr.

1 unit Belgian Chocolate Truffles 26 gr.
Each gift pack is sealed with PVC shrink film and individually packaged in a plain corrugated carton.
Reviews