4-125~2 Bottles of No. 81 Appalachian BBQ Sauce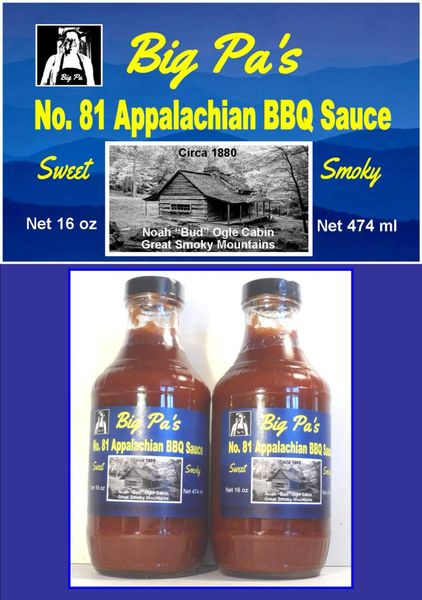 4-125~2 Bottles of No. 81 Appalachian BBQ Sauce
For Orders outside Canada and USA please call 1-705-874-3195 or email: Bigpa@CottageCampCabin.com for freight rate.

2 Bottles of Big Pa's No.81 Appalachian Gourmet BBQ Sauce
Pack consist of Two 16 oz ~ 474 gm Bottles
You will love Big Pa's Appalachian No. 81 BBQ Sauce is a smoky and sweet BBQ sauce that will make you think you are eating your BBQ in the back woods of Appalachia. This sauce is great on ribs, pulled pork or chicken.
"This sauce can cause family BBQ feuds"
INGREDIENTS: TOMATO KETCHUP, MOLASSES, HONEY, BROWN SUGAR, VEGETABLE OIL,CIDER VINEGAR, HICKORY SMOKE, SMOKED PAPRIKA, GARLIC, CHILI, BLACK PEPPER, CINNAMON, CAYENNE.
CONTAINS NO ARTIFICIAL COLORING, NO MSG, GLUTEN FREE AND NO PRESERVATIVES. KEEP REFRIGERATED AFTER OPENING.
Reviews