2-381~2 Bottles 1 Mesquite Seasoning & 1 Cajun Seasoning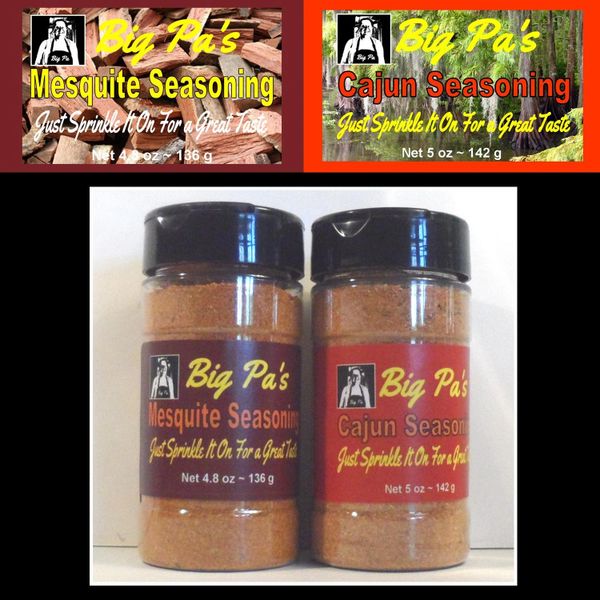 2-381~2 Bottles 1 Mesquite Seasoning & 1 Cajun Seasoning
For Orders outside Canada and USA please call 1-705-874-3195 or email: Bigpa@CottageCampCabin.com for freight rate.

2 Bottles ( 8 oz Round) per Pack
1 ~ Cajun Seasoning  Net weight 5 oz ~ 142 gm
Big Pa's Cajun Seasoning is perfect with chicken, pork, fish and seafood.
Also add it to vegetables, stir-fries and marinades. 
Use it in your bean salads, corn relishes, salsas, mixed vegetables. 
Taste great on scrambled eggs, omelettes, nachos, pizza or chili.
Use it anytime when you want a little heat and flavor.
 INGREDIENTS:  Paprika, Oregano, Thyme, Garlic, Sea Salt, Onion Powder, Black Pepper, Cayenne and Red Pepper.                 
2 ~ Mesquite Seasoning   Net weight 4.8 oz ~ 136 gm
INGREDIENTS: Smoked Paprika, Garlic, Onion, Chili, Black Pepper, Sea Salt, Mustard and Cayenne.
2 units are in a finished package with polyolefin shrink film.                             

CONTAINS NO ARTIFICIAL COLOR, NO PRESERVATIVES OR MSG, GLUTEN FREE
Clear PET , 8 oz Round Bottle.
Black Polypropylene Flapper Cap with pressure sensitive liner.     
( Two flaps~ one spoon, One three hole )
Reviews