2-355~2 Bottles of Wild Game Seasoning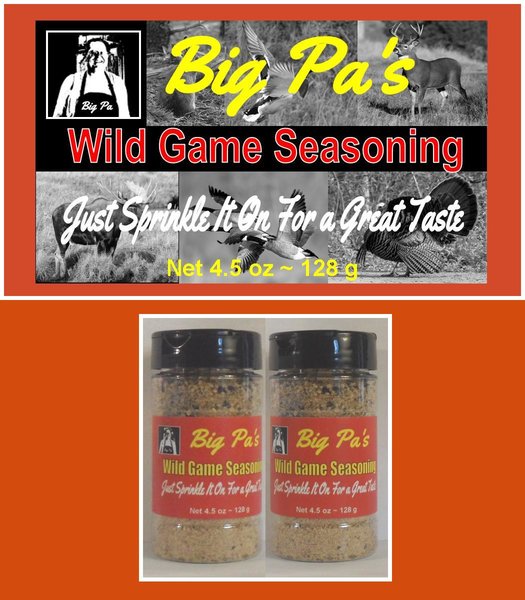 2-355~2 Bottles of Wild Game Seasoning
For Orders outside Canada and USA please call 1-705-874-3195 or email: Bigpa@CottageCampCabin.com for freight rate.

2 Bottles ( 8 oz Round) per Pack
This incredible Wild Game Seasoning will dramatically enhance cooking your wild game.
Use it on Bear, Bison, Buffalo, Caribou, Deer, Elk, Moose, Rabbit and Wild Boar.
The ingredients in Big Pa's Wild Game Seasoning will help balance the gamey flavors while maintaining the integrity of the meat.

INGREDIENTS: Black Pepper, Coriander, Garlic, Sea Salt, Onion Powder, Marjoram, and Chili Powder.
CONTAINS NO ARTIFICIAL COLOR, NO PRESERVATIVES OR MSG, GLUTEN FREE
Clear PET , 8 oz Round Bottle.
Black Polypropylene Flapper Cap with pressure sensitive liner.
( Two flaps~ one spoon, One three hole )
Net weight 4.5 oz ~ 128 gm
Reviews